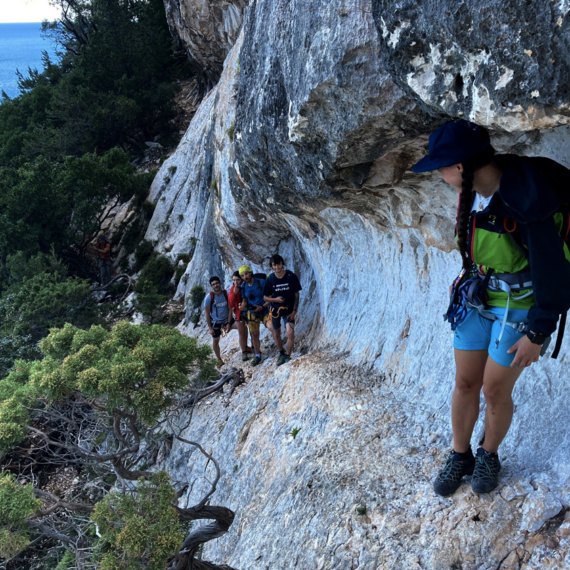 Trekking Selvaggio Blu
€300,00
Coastal crossing of the gulfs of Arbatax and Orosei the most difficult Italian trek: "a wild boar's week".
Traverse without support points where the group's complete food and water autonomy is required.
There are some easy climbing stretches and a few abseiling descents. The gradients are not excessive, but the roughness of the terrain and the difficulties of orientation mean that the stages are never short. Food and water supplies will be prepared in advance (from 2 days before) along the route by the guide. Described as the most challenging trek in Italy, 'Wild Blue' is perhaps also the most original and beautiful.
In any case, it is a demanding trek that presents mountaineering difficulties that can be overcome even by those who have never climbed, only if accompanied by a mountain guide. The orientation problems combined with the non-trivial technical difficulties certainly make it the most demanding multi-day hiking route in Italy.
Programme Day 1 – Arrival Day 2 – Santa Maria – Pedralonga – Montesantu (approx. 7 hours) Day 3 – Montesantu – Portu Quau (approx. 4 hours) Day 4 – Pto. Quau – Cala Goloritzè (approx. 6 hours) Day 5 – Cala Goloritzè – Grotta Biriola (approx. 8 hours) Day 6 – G. Biriola – Cala Sisine – Cala Luna (approx. 8 hours) Day 7 – Group disbandment after breakfast